Wisconsin

QRM Corrugated Package Supplier
Shorter Lead Times Due to Quick Response Manufacturing (QRM)
Sub-24 hour lead times for custom-engineered corrugated packages – one of Nelson Container's main advantages.
Our corrugated box design, manufacturing, and distribution processes are governed by the principles of Quick Response Manufacturing. Nelson Container provides incredibly fast, reliable, just-in-time packaging solutions, because we've eliminated waste and inefficiency.
Bottom line, your boxes arrive on time, even with very short notice.
JIT Box Manufacturing Before QRM Implementation
Before QRM, corrugated box orders required days for order processing, scheduling, set up, manufacturing, stocking, unstocking and finally shipping. Way back when Nelson did it the old way, we couldn't offer such tight deadlines, and we couldn't meet dynamic orders with the high level of consistency we can promise now.
After QRM Implementation
Over two decades ago we began a continuous improvement of our processes to shorten the manufacturing critical-path time (MCT) for packaging. Nelson Container performs weekly MCT tracking to find opportunities for steady, granular improvement. We've become the leanest, fastest box manufacturers in the state of Wisconsin.
QRM and Lean Principles Solve These Problems:
Orders waiting to start
Functional departments bottlenecking production
Accumulation of work-in-progress
Creation of high priority orders disrupting service on other orders
Excessive warehousing of finished items
Added Boost from Vendor Managed Inventory
Vendor Managed Inventory (VMI) is designed to help manage your inventory for the products we are making containers for. Companies can see how we manage those specific products, and implement the same sort of plan on their other inventory if it makes sense to do so.
Learn Why We're Better
Contact Nelson Container

Review Us on Google
Many companies are great at producing millions of cartons given weeks of notice, but can't respond quickly due to those problems listed above.
Nelson's focus on lead-time reduction is why we're so well suited to fulfilling unpredictable demand for packaging.
Quick Response Manufactoring
Four Core Concepts
With Knowledge Comes Industry Leadership
Continuous education has proven to keep NCC highly competitive in the industry. The desire to improve as individuals and our company's processes is part of the culture. Commitment to continuous learning has included ISO Quality Standards, Lean Manufacturing, and Quick Response Manufacturing (QRM). Nelson Container's development and investment in creative solutions to information systems makes them a leader in the industry.
Nelson Container employees take the opportunity to evaluate themselves personally and as a company in practical ways that increase organizational efficiencies from the office to the plant floor.
Nelson Container has been recognized for the use of Lean Principles and incorporating the QRM (Quick Response Manufacturing) philosophy. They have hosted seminars and tours for both Moraine Park Technical College and UW Madison's Center for QRM. NCC has incorporated QRM in all phases of manufacturing and office operations.
NCC is proud to be an educational source of the corrugated industry to its customers by offering "Corrugated" seminars and other educational box lunches. The team takes the time to learn and understand their customer's products, their industry, and their processes.
Nelson Container is dedicated to the success of its strategic partnerships. It collaborates on process innovations with customers and suppliers, helping them become more efficient and responsive. This collaboration has improved the infrastructure of its supply chain.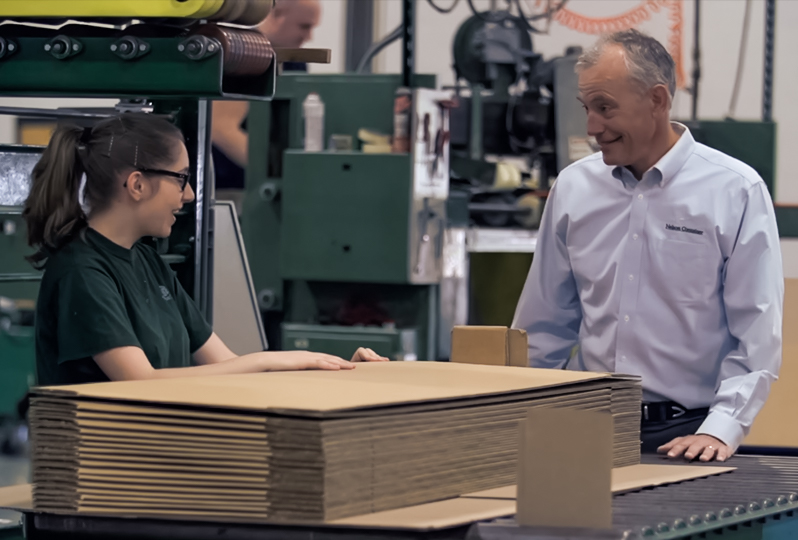 The 5 Steps of Lean Principles
* this and more information about Lean can be found at the LEI website
Step 1

Specify value from the standpoint of the end customer by product family

Step 2

Identify all the steps in the value stream for each product family, eliminating whenever possible those steps that do not create value

Step 3

Make the value-creating steps occur in tight sequence so the product will flow smoothly toward the customer

Step 4

As flow is introduced, let customer pull value from the next upstream activity

Step 5

As value is specified, value streams are identified, wasted steps are removed, and flow and pull are introduced, begin the process again and continue it until a state of perfection is reached in which perfect value is created with no waste
MCT (MANUFACTURING CRITICAL PATH TIME)
NCC has long been an advocate of the QRM (Quick Response Manufacturing) philosophy developed by UW-Madison Professor Rajan Suri and adapted by many manufacturers in Wisconsin and across the United States. The central concept of QRM is to evaluate all processes according to time. Once the processes requiring the largest amount of time are identified, various Lean techniques are used to reduce the amount of time that the process requires.
This year, after partnering with the QRM Center, NCC has started evaluating our processes using MCT (Manufacturing Critical Path Time). MCT is not that different from Lead Time. It looks at the length of time it takes to deliver an order to the customer. The key difference is that in calculating MCT a company also has to account for the amount of time a product might be waiting at a point in the process.
NCC prides itself on being responsive to companies that are dynamic and changing. By driving our MCT down further, we're able to be just as responsive as the customers we serve.
For example, a company tells their customers that they have a 24-hour Lead Time. This doesn't necessarily mean that the company is as effective as it could be. The customer might not be aware of the fact that, in order to have a 24-hour Lead Time, the company had a 2 million square foot warehouse with 500,000 SKUs. This would indicate that a company had a large amount of resources tied up with inventory instead of being used to improve and make certain they meet said lead times. For companies serving customers that frequently change their product line, this is not an effective model.
Check your lead time