Triple-Wall Corrugated Box

Packaging for B2B Shipping

Nelson Container designs and manufactures custom, triple wall corrugated boxes for virtually any application—from containers for shipping heavy engine parts to display bins for pumpkins. Our triple wall corrugated boxes offer the strength of wood crates at significant cost and weight savings. If you're shipping or storing high-value, large, heavy, or delicate products of any kind, consider triple wall corrugated boxes.
Custom Triple-Wall Corrugated Packaging
The strength and cushioning properties of a triple wall corrugated box are determined by the flute profiles used. The combination of differently sized flutes (those wave-shaped arches in between the linerboards) can be customized to maximize the cushioning properties and/or compression strength of a finished box.
Whatever type of fragile or heavy objects you ship, we can design and build a corrugated box with protective foam inserts to ensure safe transit or storage. Oversized items? No problem. Thanks to "The Beast," our jumbo corrugated folder/gluer machine, we can create custom packaging for almost any jumbo-sized product you need to ship. Nelson Container designs, manufactures, and ships triple wall corrugated packaging for all of your unique products.
Vendor Managed Inventory Services Keep You Stocked and In Business
There's an increasing trend toward Vendor Managed Inventory (VMI) services, particularly for businesses that need to respond to varying demand. In tandem with our quick response manufacturing capabilities, vendor managed inventory enables you to meet the often unpredictable seasonal demands for your products.
If the products you ship require the same packaging and/or your packaging needs fluctuate on a seasonal basis, you are a good candidate for VMI. As soon as your inventory of boxes reaches a critically low level, a usage report is automatically generated and we send out a new shipment. You'll never again be caught off-guard with no boxes for shipping. You even have the option of getting your boxes pre-assembled, so there's no time wasted putting them together.
Products We Regularly Create Triple Wall Containers for:
MRI machine parts
Computers and monitors
Glass and products made of glass
Find Your Lead Time:
Find a location near you, or learn more about Quick Response Manufacturing, and get an idea of how quickly Nelson Container can deliver your custom corrugated packaging with our "Check Your Lead Time" calculator.
Flutes Available for
Triple-Wall Corrugated: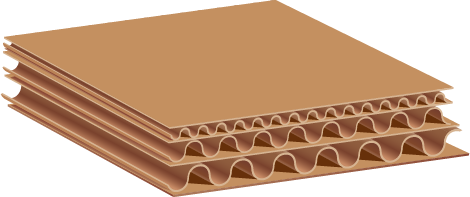 A-flute: 1/4" thick, 33 flutes per linear foot
---
The original, and thickest, corrugated flute design
Provides the most cushioning for fragile items
Excellent stiffness qualities and short column crush resistance
B-flute: 1/8" thick, 47 flutes per linear foot
---
Provides stiff, flat surface for quality printing and die-cutting
Excellent puncture and crush resistance
Commonly used for canned goods, beverage trays, wrap-around blanks as well as pads for inner packing
C-flute: 3/16" thick, 39 flutes per linear foot
---
Most widely used flute size—about 80% of all corrugated containers made with it
Good crush resistance and stacking strength, very good printing properties
Commonly used for shipping cases, packaging glass products, and furniture
E-flute: 1/16" thick, 90 flutes per linear foot
---
Excellent crush resistance, a relatively flat surface enables high-quality printing
Thin profile helps to reduce outer box dimensions & flutes per foot makes the boxes strong
Cushioning properties make it a good alternative to paperboard folding cartons for shipping fragile products
F-flute: 1/32" thick, 125 flutes per linear foot
---
Often used for small retail items, POP displays, shoe boxes, and fast food packaging
Lower fiber content makes for a more rigid box and less solid waste
Large,
Jumbo and Oversized Boxes
Large and awkwardly shaped items are no problem for Nelson Container. With our Jumbo Flexo Folder Gluer machine (aka "The Beast") and our Quick Response Manufacturing practices, we can custom design and produce jumbo triple-wall corrugated boxes faster and more cost-effectively than you might think humanly possible. The average lead time is just 48-hours for new package design and only 24-hours for repeat package design.
Nelson Container—
a Trusted Source for Corrugated Boxes
Nelson Container has been in the corrugated box business for over 50 years. We've designed, tested and manufactured corrugated boxes for shipping, storing, and displaying all kinds of heavy, fragile, and valuable products. Over the years, we've built a reputation for strategic, on-time and environmentally responsible packaging solutions.
Let us know what you need to be protected while in transit, or for storage or display. If we don't have the perfect solution already, we'll design one.
Learn Why We're Better Custom Package Design Contact Nelson Container