Double-Wall Corrugated

Packaging for B2B Shipping

Nelson Container designs and manufactures custom, double-wall corrugated boxes for a wide range of high-value products and fragile items. Our double-wall boxes buffer the product inside from extreme temperatures, humidity, liquid, and rough handling.
Custom Double-Wall Corrugated Packaging
The strength of a double-wall corrugated box can vary depending on the flute profiles used. Nelson Container can build double wall corrugated boxes with any combination of flute profiles to achieve the perfect balance between cushioning and strength. The size of the flutes, those wave-shaped arches sandwiched between the two linerboards, are the key to dialing in the cushioning properties and compression strength of a finished box. We also provide internal packaging design services to ensure your product is organized and secure during shipping.
Vendor Managed Inventory Service Eliminates Overstock and Understock
If you run a seasonal business, you know how the seasonal surge can catch you off-guard. With Vendor Managed Inventory (VMI) services from Nelson Container, you'll never find yourself out of shipping boxes when you need them most. When your supply hits the re-stock level, we get an alert and immediately ship out more boxes. If we don't have enough of the boxes you need, our quick response manufacturing capabilities enable us to produce them in record time.
Businesses that ship products with the same packaging and/or have seasonal demand for their products are strong candidates for vendor managed inventory service. Even if your business is not seasonal, however, VMI can make your life a little easier and your shipping glitch-free. You even have the option of getting your packaging delivered pre-assembled, so there's no time wasted putting boxes together.
Contact us to learn more about setting up a Vendor Managed Inventory service with us.
Products Shipped in Corrugated Boxes from Nelson Container:
MRI machine parts
Computers and monitors
Glass and products made of glass
Find Your Lead Time:
Find a location near you, or learn more about Quick Response Manufacturing, and get an idea of how quickly Nelson Container can deliver your custom corrugated packaging with our "Check Your Lead Time" calculator.
Flutes Available for
Double-Wall Corrugated: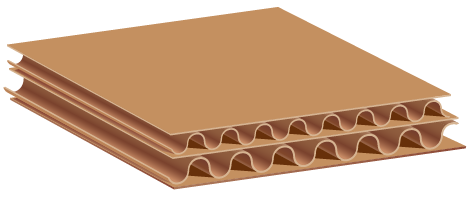 A-flute: 1/4" thick, 33 flutes per linear foot
---
The original, and thickest, corrugated flute design
Provides the most cushioning for fragile items
Excellent stiffness qualities and short column crush resistance
B-flute: 1/8" thick, 47 flutes per linear foot
---
Provides stiff, flat surface for quality printing and die-cutting
Excellent puncture and crush resistance
Commonly used for canned goods, beverage trays, wrap-around blanks as well as pads for inner packing
C-flute: 3/16" thick, 39 flutes per linear foot
---
Most widely used flute size—about 80% of all corrugated containers made with it
Good crush resistance and stacking strength, very good printing properties
Commonly used for shipping cases, packaging glass products, and furniture
E-flute: 1/16" thick, 90 flutes per linear foot
---
Excellent crush resistance, a relatively flat surface enables high-quality printing
Thin profile helps to reduce outer box dimensions & flutes per foot makes the boxes strong
Cushioning properties make it a good alternative to paperboard folding cartons for shipping fragile products
F-flute: 1/32" thick, 125 flutes per linear foot
---
Often used for small retail items, POP displays, shoe boxes and fast food packaging
Lower fiber content makes for a more rigid box and less solid waste
Large,
Jumbo and Oversized Boxes
Thanks to "The Beast" (a massive Jumbo Flexo Folder Gluer machine), Nelson Container can custom design, and produce large double wall corrugated boxes faster and more cost-effectively than you ever thought possible. With our Quick Response Manufacturing practices, the average lead time for new package designs is a remarkably fast 48 hours. Repeat package designs require just 24 hours. You just won't find anyone to do it faster or better than Nelson Container.