ECT vs Mullen

Test for Box Strength
Difference Between Edge Crush Test and Mullen Test
The Edge Crush Test rates how much weight can be stacked on a box without damage and the Mullen Test rates how much force it takes to puncture the box. ECT rating is important to consider when stacking boxes, while Mullen rating is important for sharp & irregularly shaped items. See below for recommended ratings.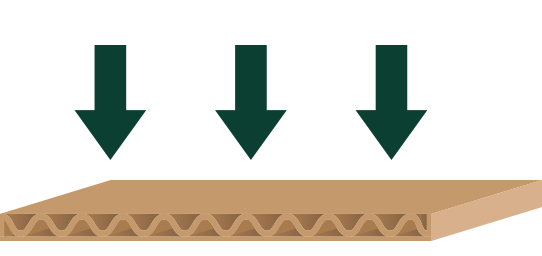 Mullen Test (Burst Test) for Box Strength
The Mullen Test (or the burst test) was developed 130+ years ago when boxes were handled entirely by hand.
These days, their most purposeful use is when you're shipping individual boxes via traditional carriers; the boxes are tossed from one conveyor belt to another and crash into other boxes of varying sizes, shapes, and rigidity.
Punctures from outside sources are a very prominent threat in the case of individual shipping.
Nelson Container uses these tests often on the large- and jumbo-sized packaging produced on our new flexo-folder/gluer:
When packaging items in big, big boxes, those items aren't usually stacked on top of one another.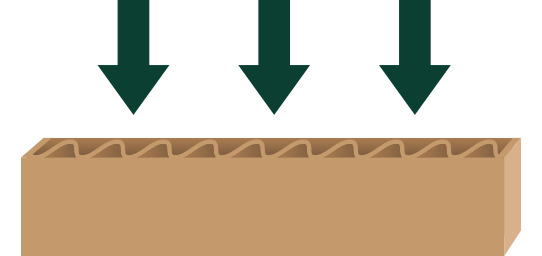 Edge Crush Test (ECT) for Box Strength
Modern production and shipping have changed drastically, and the testing methods we use to measure a package's strength have changed accordingly. These days, much of the shipping is done as boxes on pallets, delivering wholesale goods from one business to another business (B2B). Testing the edge wall of a box for its stacking strength is the most sensible and reliable measure of how well the box will hold its form under the vertical weight during transit. Understanding the specifications of an ECT chart is relatively easy. If a corrugated container has a 55 ECT rating, it means that it can withstand a 55 lbs of pressure on the edges of the cardboard.
Edge crush testing is generally the test you want to be done when testing your package strength for B2B shipping, especially if the packages are medium- to small-sized and going to be stacked on top of one another. This is where corrugated provides a significant advantage.
Recommended Ratings Based on Weight
Single Wall Corrugated Box ECT/Mullen Conversion Chart

Max. Suggested
Load/Box
Min. Edge
Crush Test
Mullen
(Burst) Test
35 lbs.
26 ECT
150#
50 lbs.
29 ECT
175#
65 lbs.
32 ECT
200#
95 lbs.
44 ECT
275#
120 lbs.
55 ECT
350#
Double Wall Corrugated Box ECT/Mullen Conversion Chart

Max. Suggested
Load/Box
Min. Edge
Crush Test
Mullen
(Burst) Test
100 lbs.
48 ECT
275#
120 lbs.
51 ECT
350#
140 lbs.
61 ECT
400#
160 lbs.
71 ECT
500#
180 lbs.
82 ECT
600#
Triple Wall Corrugated Box ECT/Mullen Conversion Chart

Max. Suggested
Load/Box
Min. Edge
Crush Test
Mullen
(Burst) Test
240 lbs.
67 ECT
700#
260 lbs.
80 ECT
900#
280 lbs.
90 ECT
1100#
300 lbs.
112 ECT
1300#
Tested & Approved Triple Wall Packaging
Triple wall corrugated boxes are the heftiest boxes on the market. Designed to withstand heavy weight and protect delicate products, these boxes are the perfect solution for shipping fragile items. Adding protective foam inserts will ensure that your fragile products stay as safe as possible. All triple-walled packaging is tested and approved through the ECT and Mullen tests for strength. For large shipments, order our corrugated packages in bulk.
Nelson Container will even make your custom designed package official with ECT/Mullen BMC mark printing. Combined with our inner foam packaging, your products will be protected inside and out during transit.
Check out our ISTA Testing page for more package testing information.
What are
Edge Crush Tests and Mullen Tests Used For?
Both the edge crush test (ECT) and Mullen test are used to figure out the strength of a box, and both of these tests have their place in the world of packaging.
Lucky for you, Nelson Container has an in-house ISTA testing lab with both Mullen Test and edge crush test capabilities so we don't need to outsource to a third-party company. In-house testing saves time and money for us, and we pass those savings on to you.
"Partners" means we both benefit.
Small- to medium-sized boxes you're going to stack on pallets are best tested using the ECT, and large- to jumbo-sized boxes loaded directly onto trucks for quick B2B shipping are best tested using the Mullen Test.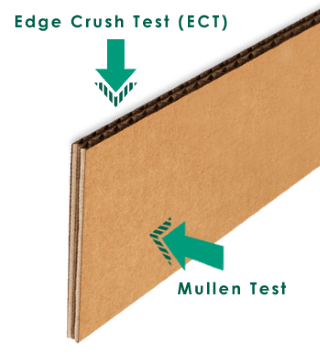 Contact Nelson Container for more information or if you have more questions on finding the best type of corrugated solution for your products.