Custom Industrial Packaging for B2B Shipping
Packaging Supplier for Large Industrial Products
At Nelson Container we understand that it can be difficult to find a supplier for all of your packaging needs especially for large, oversized products. Our jumbo folder gluer, The Beast, allows us to customize your shipping containers to match your exact needs. What makes The Beast so special is its ability to cut, fold, glue, and ultimately produce jumbo-sized boxes we have engineered to make sure your product gets safely from Point A to Point B.
Heavy metallic parts
Large, obtuse industrial parts
Lighting equipment
And more!
Nelson Container knows what it takes to keep the supply chain moving.
>> See what The Beast can do for your business.
Box Supplier for Manufacturers With Lots of Products
If you have a lot of products with different sizes and weights, don't risk the safety of your product by using generic packaging. We look at bulge resistance, tensile strength, and stress points to maximize the safety of your product. After considering these factors, creating the boxes, and loading a test product into the packaging, we run it through our own in-house testing facility (ISTA) to make sure it stands up the rigors of transit. With online shopping becoming increasingly prevalent, having a reliable packaging supplier is a necessity. That's why we've structured our business with quick response manufacturing and vendor managed inventory in mind so that you never run out of boxes.
Services We Provide to Streamline Your Packaging Process
Custom Designs for Industrial Shipping Packages
By reinforcing the walls and changing the flutes within the packaging, our design engineers make your packaging strong enough to support and protect heavy objects, oddly shaped objects, objects with an incongruous center of balance, etc.
Having a competitive edge is sometimes seen as only in the brand value or differentiation of a product, but that edge in your business can also start by simultaneously cutting cost and creating efficiencies in your supply chain. That's why we offer package printing services. By having pictorial markings, box manufacturer's certificates, barcodes, and other human readables on your packages, your warehouse or manufacturing center employees can easily identify your packaged products on pallet rack systems, in assembly, or when the product has to be shipped. This is crucial if your business thrives on lean manufacturing or on Just-In-Time (JIT) production.
This reduces costs and creates efficiencies by not having to spend time searching for inventory and by not having to print new barcode labels. You can further create efficiencies in your manufacturing by using ready-to-use packaging (you don't have to assemble anymore). The added benefit is that your end users and customers also receive your products quicker and safer through the supply chain process.
Don't Wait For Packaging
Avoid confusion in your inventory's shipping and logistics supply chain by easing the ebb and flow of your lean manufacturing environment. Or Vendor Managed Inventory Services (VMI) works scalably with you as you change with the unpredictable fluctuation of your market. Of course, this works best when you have unchanging products with ready-to-go packaging or predictably constant packaging.
This efficiency is another step in allowing you to focus on the core of your business instead of the minor details.
Alternate Packaging Opportunities
But not every corrugated package can be strong enough or exactly meets the needs of a product. For times when we're shipping products too heavy or pointy or delicate, Nelson Container uses other materials to produce the packaging you need for safe business-to-business transit.
Quick Response
Manufacturing
All of the aforementioned steps are completed faster than most people would think possible. After ordering your product, we get it made and ship it out to you within 24 hours.*
This is made possible by QRM (quick response manufacturing) practices, employed company-wide to reduce overhead, wasted space, wasted time, and wasted manpower.
It keeps the whole supply chain moving smoothly and adds to your bottom line.
See other markets serviced by Wisconsin's fastest custom corrugated (not cardboard) package manufacturer, Nelson Container.
*(48 hours for first-time clients)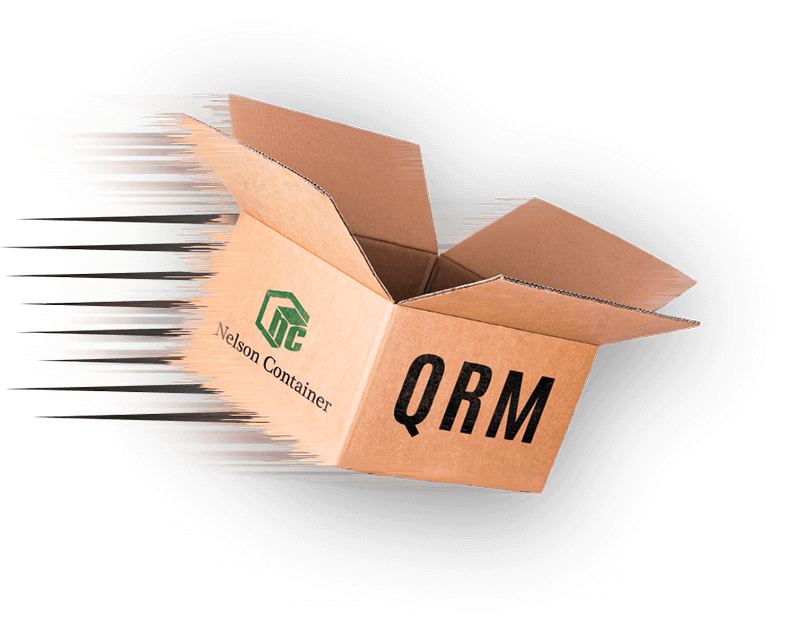 The State of
Manufacturing in Wisconsin
FaB Wisconsin released information showing the state of manufacturing in Wisconsin showing the largest areas of increase for each region of the state. In the Southeast Region, three different branches of electronics manufacturing are up over 36%.
News: Nelson Container has been growing as well, and we want to be the business-to-business package manufacturing company you choose.
It's been an uphill battle for us, being the little guys. We accepted our size and used it to our advantage, specializing in making custom packaging for the most complicated of items. With that goal in mind, we've been growing and growing, and we'd love to keep pace with the electronics manufacturing industry in Wisconsin.