Consumer / B2B

Corrugated Packaging
Wisconsin Corrugated Packaging for Consumer Products
The majority of our clients don't order packaging for consumer products, so it's not exactly our specialty. Most B2C businesses are looking for glossy, multi-colored packaging with complex designs to get their products noticed. But most of our clients are manufacturers. That's why we use flexographic printers, which are perfect for marking boxes with clean and simple business-to-business information (logos, safety markings, shipping info, and placement markings). But that only means we are limited, not incapable.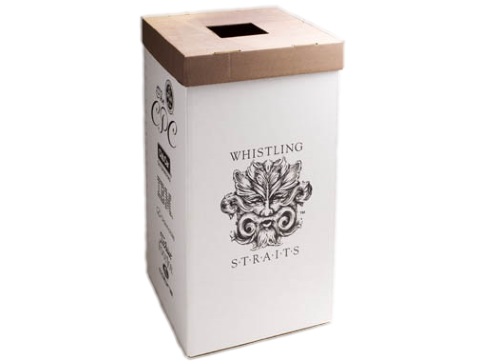 Take a look at the custom-printed packaging we did for Whistling Straits in our project gallery, or some of the custom decorative packaging below. If you have any questions about our corrugated package design for your consumer product, reach out to us and we'll see what we can do!
Creative Solutions for
Custom Cardboard Boxes
That said, there are ways to sweeten a dish without adding sugar. We have the ability to design and create creative packaging without the use of fancy graphics and multi-colored printing. By layering different solid-colored corrugated boards and cutting out patterns, Nelson Container creates simple yet appealing designs for consumer product packaging.
We specialize in business-to-business shipping solutions, taking into consideration the specifics of whatever product you're shipping to ensure its maximum safety. Nelson Container always delivers in time; understanding that any disturbance in the supply chain delays the entire process and has an impact on the local economy.
See the other markets we supply corrugated packing for.